100% Natural Super Supplements
Looking for a natural solution to your health concerns?
G-Herbal's Natural Supplements have the perfect solution - a formulation of natural ingredients that help to redress the balance and restore health. Their products are formulated with herbs and spices that have been carefully selected to help restore balance and improve health.
Click the links and visit their website today and start feeling better from the inside out!
REFINED | PURIFIED | PERFECTED
G Herbal has taken traditional Jamu and applied Western scientific methods to the formulation of these ancient remedies to create a range of 100% natural super supplements with scientifically tested benefits and the purest ingredients that are traceable from farm to a capsule.100% Jamu From Bali with ❤ Indonesian Super Supplements
BLISS

- RELAX & DESTRESS | BALANCE HORMONES | IMPROVE FOCUS 
Price:

$52.00
Price:

$42.00
Price:

$47.00

BODY

- VITALITY | IMMUNITY | INFLAMMATION 
Price:

$52.00
Price:

$42.00
Price:

$47.00
SKIN

- COMBAT FREE RADICALS | BOOST COLLAGEN | REDUCE SCARRING
Price:

$58.00
Price:

$46.00
Price:

$52.00
WEIGHT

- DEBLOAT | IMPROVE DIGESTION | BOOST METABOLISM
Price:

$58.00
Price:

$46.00
Price:

$52.00
WOMAN

- MENSTRUAL FLOW | BALANCE HORMONES | ANTI-BACTERIAL
Price:

$55.00
Price:

$44.00
Price:

$50.00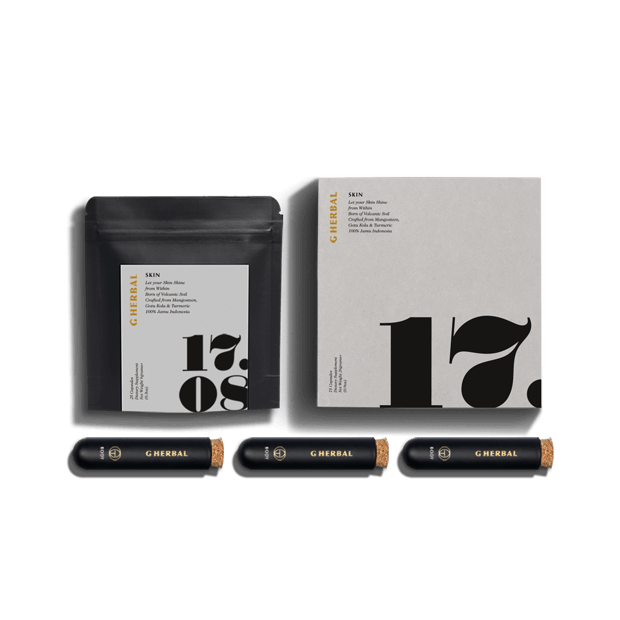 G Herbal Acne & Blemish